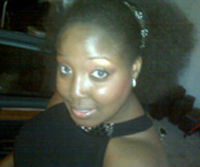 LICENSED TO TEACH:

CoreMoves Class
CoreMoves Party
ABOUT TIFFINIE:
Hi Atlanta Ladies,

Welcome to Tiffinie's Exotic Parties and Special Events web page.

My first experience with AOED was a 3 hour class. I went in thinking that I would learn a few sexy moves that I could take back to my fiancée, but I was surprisingly mistaken. We danced, of course, but we also learned to appreciate our own bodies and celebrate the bodies of the other women in the room. In a class of 20+ women, I witnessed ladies who came in timid and insecure and left confident and proud. When my fiancée picked me up at the end of the class, he looked at me, smiled and said "you look different." It was then that I realized, while I was acknowledging the transformation of the women around me, in turn, my self–esteem had risen as well. I'm so excited to be able to share that same awakening with you.

All the Best,

Tiffinie
Atlanta Licensee & Instructor
AOED™ Classes
If you're interested in a group class please complete the "Contact Me" form above.